History tends to repeat itself—and the stock market is no exception.
In fact, plenty of investors sincerely want this to be true. If history repeats itself, you can find securities you believe will follow a trend, invest in them, and watch as your bets pay off. (It's almost never that easy.)
On the flip side, history can repeat itself in a negative way. While nearly every investor hopes there isn't another financial crisis, they do want to know what to expect from their investments should a similar market downturn occur.
To educate and inform investors about how their portfolios might react to major economic events, advisors employ portfolio stress testing. A portfolio stress test involves simulating or recreating certain market conditions, then evaluating a given investment strategy under those conditions.
A simple example: if your portfolio is geared for downside protection, then the S&P 500 drops 10% and your portfolio is down 15%, you failed the test; if the S&P 500 is down 10% and your portfolio is only 7% lower, then according to the test, your portfolio may be well protected.
To help advisors explain portfolio strengths and weaknesses in the context of market drawdowns, we've added portfolio stress testing abilities to YCharts Quickflows. Advisors can use Economic Impact Quickflows to visualize hypothetical performance during specific historical periods like an oil price collapse, a sustained bull market, the 2008 financial crisis, and even the coronavirus (COVID-19) outbreak.
Learn more about using Quickflows for portfolio, stock, and mutual fund comparisons
Visual portfolio stress testing during major market events
Drawing on best practices of experienced YCharts users, Quickflows condense highly impactful workflows into single-click efforts via an easy-to-use and always-handy menu.
In the examples below, we'll highlight several Economic Impact Quickflows and discuss how they add value to conversations about portfolio performance in light of major stock market movements.
Financial Crisis Analysis
Perhaps the most significant market event of the 21st century, the 2008 Financial Crisis wiped out more than half the value of the S&P 500, down nearly 57% in March 2009.
The Financial Crisis Analysis Quickflow visualizes the hypothetical performance of a portfolio—and mutual funds, ETFs or CEFs—from October 2007 through March 2009. If protecting value is a priority for you or your clients, this chart illustrates a portfolio's ability to preserve capital during a recession. (From a Model Portfolios quote page, click the Quickflows Menu on the right of your screen then select from the Economic Impact list to see a portfolio comparison chart.)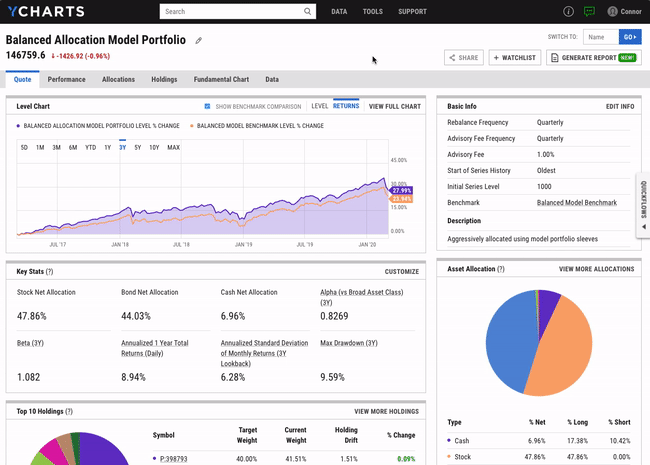 Click to stress test your portfolio in YCharts
Recovery Bull Market
Following the Financial Crisis, the US stock market rallied into the longest sustained bull market in history. Investors want to know if their portfolio will keep pace with the market when everything is going up and to the right.
While not exactly a stress test, the Recovery Bull Market Quickflow is a portfolio analysis that shows whether you're positioned to capture broad market gains, or if your portfolio might miss out on a rally. The output is shown below.
Click to stress test your portfolio in YCharts
Sustained Volatility
Volatility doesn't equate to losses, but it's still concerning for investors to see volatility surges in the market. For that reason, it's helpful to show how a portfolio reacts to sometimes erratic, back-and-forth movements.
The Sustained Volatility Quickflow is a portfolio stress test showing hypothetical portfolio performance during most of 2018—a year marked by several spikes in volatility. Shown below, the Quickflow creates a comparison chart of your portfolio and the S&P 500 and also shows trends in the Cboe Volatility Index, or VIX.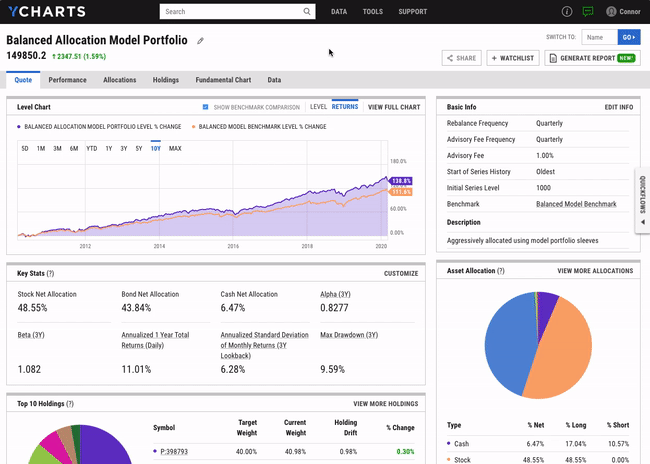 Click to stress test your portfolio in YCharts
Make the complex easy, and the easy fast
High quality investment research that enables smarter decisions and better client communications doesn't have to be time consuming, nor difficult. Quickflows take the industry-best tools and data already available on YCharts and put them to work to meet your needs.
Quickflows, like the portfolio stress tests above, were built from the insights and workflows of YCharts customers. Input from YCharts users continues to drive new features, platform enhancements, and user interface redesigns.
Stay tuned for more functionality, and feel free to reach out with any investment research tasks you'd like to see automated with Quickflows.
Connect with YCharts
Contact YCharts via email at hello@ycharts.com or by phone at (866) 965-7552.
Interested in adding YCharts to your technology stack? Sign up for a 7-Day Free Trial.
Disclaimer
©2020 YCharts, Inc. All Rights Reserved. YCharts, Inc. ("YCharts") is not registered with the U.S. Securities and Exchange Commission (or with the securities regulatory authority or body of any state or any other jurisdiction) as an investment adviser, broker-dealer or in any other capacity, and does not purport to provide investment advice or make investment recommendations. This report has been generated through application of the analytical tools and data provided through ycharts.com and is intended solely to assist you or your investment or other adviser(s) in conducting investment research. You should not construe this report as an offer to buy or sell, as a solicitation of an offer to buy or sell, or as a recommendation to buy, sell, hold or trade, any security or other financial instrument. For further information regarding your use of this report, please go to: ycharts.com/about/disclosure
Stay up to date,
subscribe to the YCharts blog