The S&P 500 is nearly 20% off the all-time-high it set less than a month ago on February 19th, at times moving into the -20% bear market territory. Thursday, March 12th was the S&P 500's worst day since Black Monday in 1987.
The shock of coronavirus (COVID-19) can be felt not only in investors' portfolios, but also in global concern over the virus's inexplicable spread and life-threatening nature. Now, more than any time in recent memory, financial advisors are facing questions—and potential scrutiny—from clients who are rightfully concerned for the safety of their nest-eggs.
It might feel like you're under fire, but take this downturn as an opportunity to create touch points with clients.
Ongoing communication between advisors and their clients (or prospects) is a vital component of client satisfaction and retention. In response to historic market downturns, ad hoc communications like fielding inbound questions or sending all-client emails require special attention from advisors.
At YCharts, our mission is to support advisors and their client relationships. With this goal in mind, we put together this list of fact-based articles and customizable visuals to aid your client communication efforts, and save you time while doing so.
Articles to inform you and your clients
About coronavirus:
Coronavirus pandemic upends daily life: A rolling, live feed of all of CNN's coverage on coronavirus, its spread, and the mark its leaving on communities and economies.
Fact check: will Covid-19 fade in the summer – then return later like the flu?: Is the novel coronavirus at all like the common flu? Could there be a second wave?
Coronavirus: How bad information goes viral: A deep-dive on a single Facebook post illustrates how misinformation takes hold of the public.
On the impact of market downturns:
What Happens to Stocks After a Big Down Month?: According to Ben Carlson of Ritholtz Wealth Management, 56% of the time, stocks were higher one year later, 72% of the time they were higher 3 years later, and were higher 80% of the time 5 years later.
How the stock market has performed during past viral outbreaks: "Risk velocity – the pace at which major risks and 'black swan' events can affect asset prices – is elevated in today's markets compared to 10 years ago for three key reasons." Via MarketWatch.
On communicating with clients through the downturn:
Advisors' Tips for Tackling Clients' Coronavirus Questions: As much as you educate clients about "staying the course," questions will arise and phones will ring.
Talking Clients Off The Ledge From 'Scary' Markets – from Michael Kitces: When clients are panicking and on the verge of making emotionally-driven decisions, there's an opportunity for advisors to use empathy to build trust and strengthen the relationships.
Helpful YCharts visuals (feel free to share with clients!)
Visuals go a long way in helping you explain to clients exactly what's going on in the market right now. Feel free to use these charts in your conversations. (In Fundamental Charts, click Export then Download Image for a PNG file.)
Even after the drawdown, the S&P 500 is at the same level as February 2019
Despite the recent correction, the S&P 500's performance since the '08 financial crisis has been historic. Because of that sustained bull market, the recent loss of value sets the S&P back only about a year — growth over the last ten years or more is still sizable. View in YCharts.
Impact on major world economies
Italy, France, India and the UK have experienced the effects of coronavirus more sharply than other world powers, all down 25% or more year to date, while the MSCI USA index has recovered slightly and is now down some 12%, off lows at the end of March. Notably, the country where COVID-19 originated, China, is among the least affected. View in YCharts.
Oil prices reverse their recent recovery
Reduced global travel and energy use around the globe have pushed oil prices off their recovery in late 2019. Unable to close the gap on April 2019 highs, WTI and Brent Crude are 46% and 50% lower year over year, respectively. View in YCharts.
Other visuals to share with clients:
The S&P 500 set 404 new all-time-highs in the last 10 years
Year-to-date returns for all 11 S&P sectors
Short-term and long-term US treasuries are way lower
The Coronavirus Quickflow
Quickflows automate many of the most common workflows in YCharts to help our clients conduct higher quality research in less time. We put together a special Quickflow so you can gauge how your portfolios have fared relative to key indices. (From a Model Portfolios quote page, click the Quickflows Menu on the right of your screen then select Coronavirus Crisis to see a portfolio comparison chart.)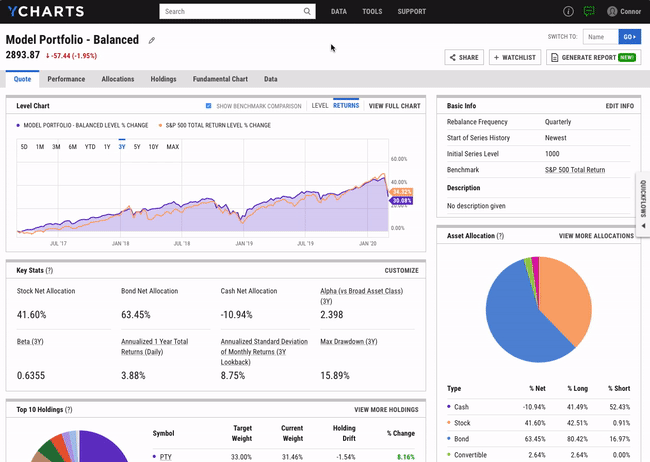 Click to see how the downturn has affected your own portfolios
The Advisor-Client Communications Framework
YCharts' Advisor-Client Communication Framework gives advisors a framework to build or elevate their client communication strategy.
The current market downturn has created an "Ad Hoc / Broadcast" communication opportunity. Are you doing enough to get in touch with your clients and educate them on your views and action plan?
See the following resources we've put together to help you better connect with clients, help them through tough market conditions, and build stronger relationships:
How To Create Better Touchpoints with Clients
A Video Guide to the Communications Framework from YCharts CEO Sean Brown
Survey: How Can Advisors Better Communicate With Clients?
Client communications are in the spotlight
No one can predict the markets.
The stock market's historic bull run has caused complacency among both advisors and investors; however, this downturn will shine a spotlight on advisors who aren't making the time and effort to properly communicate with their clients.
With YCharts, thousands of advisors and planners are using visual analysis to make smarter investment decisions and demonstrate the value of their portfolio strategies. If you can benefit from improved communication with clients and prospects, visit ycharts.com, request a demo or call us at (866) 965-7552 to learn more.
Disclaimer
©2020 YCharts, Inc. All Rights Reserved. YCharts, Inc. ("YCharts") is not registered with the U.S. Securities and Exchange Commission (or with the securities regulatory authority or body of any state or any other jurisdiction) as an investment adviser, broker-dealer or in any other capacity, and does not purport to provide investment advice or make investment recommendations. This report has been generated through application of the analytical tools and data provided through ycharts.com and is intended solely to assist you or your investment or other adviser(s) in conducting investment research. You should not construe this report as an offer to buy or sell, as a solicitation of an offer to buy or sell, or as a recommendation to buy, sell, hold or trade, any security or other financial instrument. For further information regarding your use of this report, please go to: ycharts.com/about/disclosure
Stay up to date,
subscribe to the YCharts blog