Expert Tips are designed to help you get the most out of your YCharts subscription. Hone your skills, practice new ones, or email hello@ycharts.com if you have any questions.
Click to jump to each Expert Tip:
Examine Valuation Trends
Use Timeseries Analysis to find trends in specific companies' valuation. Select a list of securities (such as a sector, index, or your own Watchlist), a valuation metric of your choice, and a reporting frequency to quickly compile tons of valuable data. Export the data table to the YCharts Excel Add-in or as a .csv for further trend analysis.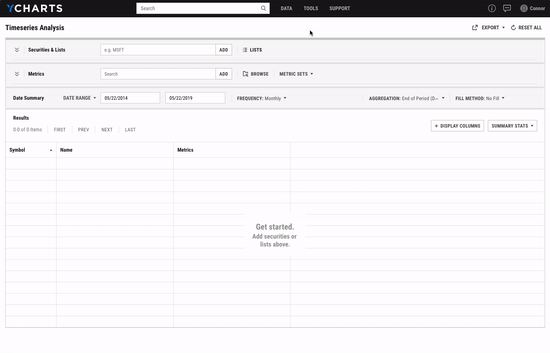 ________________________________________________________
Timeseries Data Formatting
The YCharts Timeseries Analysis tool allows you to customize your data formatting options. Choose your "Date Range" and "Data Formatting" frequency to visualize and further analyze your data.
Stay up to date,
subscribe to the YCharts blog