YCharts for Advisors
Spend less time swivel-chairing and more time advising. Streamline your investment research, build portfolio strategies & grow AUM with our suite of financial advisor tools.
Acquire Clients & Grow AUM
Whether prospecting new clients or servicing your current book of business, effective communication is at the core of every advisor-client relationship.

YCharts helps capture the attention and trust of your prospects and clients. Present portfolio strengths, navigate conversations, and provide a consistent client experience across all your communication channels.
Create and Share Investment Insights
As a RIA software solution, YCharts bridges the gap between uncovering investment insights and presenting those recommendations to clients & prospects.

Build better portfolio strategies, run comparisons for due diligence, and create visuals to educate clients & include in your newsletter or blog.
Analyze & Research Securities
Your time is extremely valuable, and often scarce. While investment research is core to your value proposition as an advisor, it shouldn't take up your whole day.

With expansive market & economic data sets and a focus on workflow automation, YCharts is built with speed and efficiency in mind. Get your day back with research tools and pre-built templates designed for advisor use cases throughout the platform.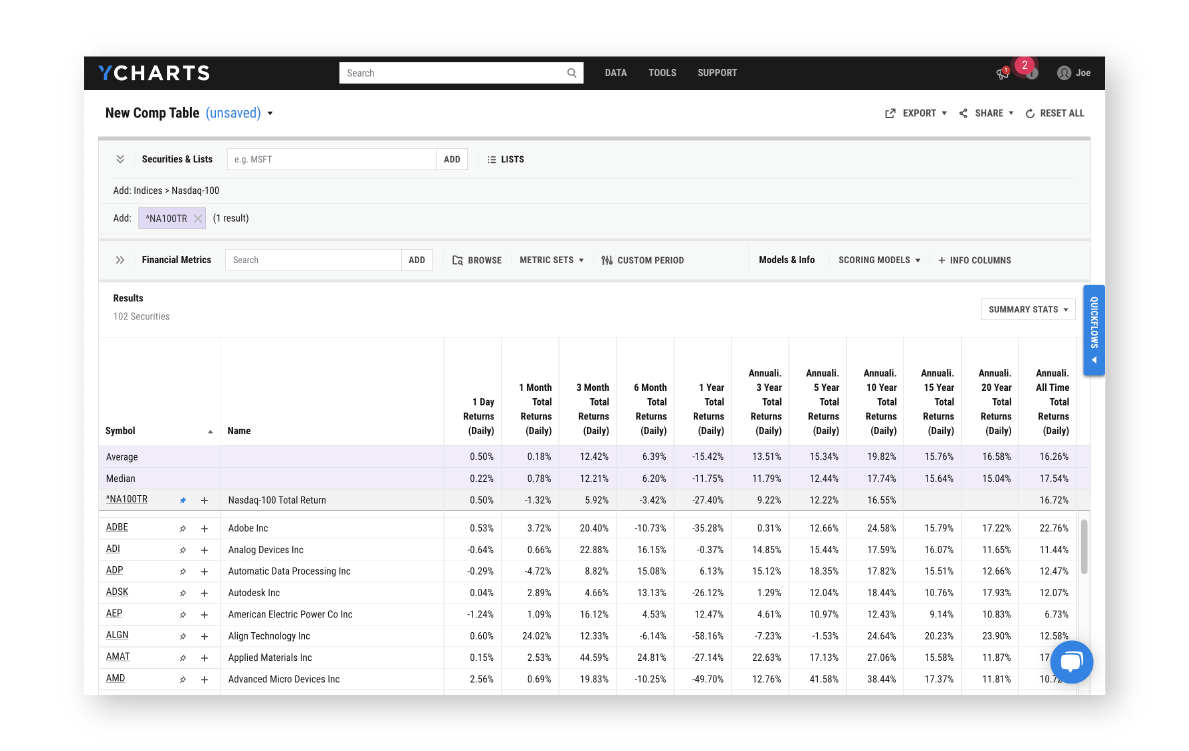 Case Study
The Challenge
In 2017, Valley Wealth Group, an LPL-partnered RIA firm, started to implement firm-wide models as a way to better serve their clients and also spur AUM growth. As investment analyst George Wooten, AIF® and his team evolved, they needed an investment research platform that could keep up. Having previously used multiple research platforms concurrently to perform his day-to-day tasks, including Zacks and even a Bloomberg Terminal, George was looking for a "one-stop-shop solution that would deliver on all fronts."
The Solution
After exploring YCharts via a free trial, George was sold on it being the platform that could not only streamline his workflows and grow his business, but also provide additional value to clients.
"There's no other platform that I've seen that can present and provide information as neatly while allowing users the ability to tweak and mold it the way YCharts can", says George.


Support & Lead Advisor Teams
The more time your advisors spend with clients, the more their businesses and AUM grow. YCharts increases efficiency across due diligence, asset gathering, and meeting prep, enabling advisors to own their growth.

For team leaders, YCharts enables you to promote your firm's proprietary models, customize and push reports approved for client use, and align advisors in the field around compliance best practices.

See What YCharts Can Do for You.
Talk to one of our Experts.
Request a demo to have one of our product specialists walk you through the platform.