Scatter Plot: Dynamic Storytelling for Funds, ETFs & Portfolios
With YCharts' new Scatter Plot, asset managers and advisors are empowered to take their visual analysis and presentations to the next level. Scatter Plots enable you to plot any of YCharts' 4,000+ calculated metrics for funds, stocks, and portfolios, and also communicate to clients how funds or portfolios stack up against each other and their individual holdings.
Beyond the advanced charting capabilities already offered, the Scatter Plot tool adds even more flexibility when answering questions on-the-fly in client meetings, comparing fund strategies head-to-head, and differentiating one fund from its peers.
Comparing Mutual Funds & ETFs with Scatter Plot Visuals
#1 — Compare and Contrast Active and Passive Funds
To better understand the risk and potential reward of different mutual funds, ETFs, or other securities, add them to a Scatter Plot along with a performance metric on the Y-Axis and risk metric on the X-Axis. With a Scatter Plot, the age-old debate around passive vs active management is more clearly illustrated and leads to some compelling talking points.
Below, the passive SPDR S&P 500 ETF (SPY) has outperformed several active ETFs while also carrying more risk, but the ARK Innovation ETF (ARKK) stands out from the pack by an even wider margin.
#2 — Visualize the Risk Vs. Reward Relationship for Fixed Income Funds
An important dynamic for any fixed income fund is the relationship between its yield and duration. Current or prospective fundholders will want to know the income a fund can provide, but also that fund's sensitivity to rate changes, as given by effective duration.
Plotting fixed income funds to determine which offer higher yields and lower risk of a price drop is revealing. Especially if you're interested in long-term versus short-term performance, Scatter Plots provide a visual representation of risk and return tradeoffs for each mutual fund, ETF, portfolio or any other security type.
#3 — Plot an Efficient Frontier Proxy and See How Your Portfolios Compare
The efficient frontier is a set of optimal portfolios that offer the highest expected return for a defined level of risk. To identify where your portfolios and model strategies lie relative to the efficient frontier, add a series of passive allocation funds along with a portfolio of your choosing.
An illustration of a client's portfolio vs. the efficient frontier can inform discussions and ensure a portfolio is optimized for risk relative to the returns it offers. Scatter Plots can also be leveraged when prospecting new clients by showing how your portfolio strategies outperform those of competitors on the efficient frontier.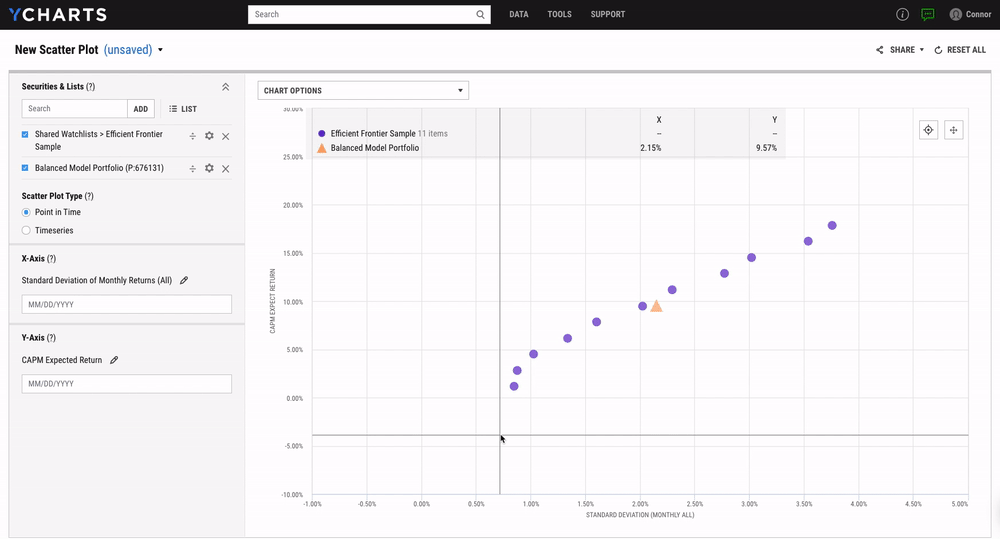 #4 — Understand How Individual Holdings Affect Portfolio-level Metrics
Add a Model Portfolio, its holdings, and benchmark to a Scatter Plot to analyze how the underlying holdings are contributing to, or detracting from, overall performance and risk. When optimizing portfolios or trying to identify the best securities to use in a strategy, Scatter Plots paint a clear picture of each fund's pros and cons.
#5 — Analyze Multiple Funds' Holdings Head-to-Head
If you ever wondered how the underlying holdings of different ETFs stack up against one another, Scatter Plot provides you the ability to perform a direct comparison in just a few steps. Watchlists of SPY and ARKK's top 25 holdings can be created directly from their respective quotes pages and dropped into Scatter Plots as you would a typical security.
With each ETF's holdings color-coded for easy identification (light orange for SPY and purple for ARKK), one can gain insights into a manager's decision-making and which holdings are driving, or hurting, alpha. From this chart, we can deduce that over a one-year period ending November 30, 2021, SPY's top holdings experienced a lower amount of volatility while still posting higher returns when compared to ARKK.
How To Use Scatter Plot
This five-minute video provides a quick "How To" to get you started. Included are valuable tips for making the most of powerful Scatter Plot features, such as customizing data point flags and pinch-to-zoom.
Scatter Plot Step-by-Step
Similar to our Fundamental Charts tool, Scatter Plots are driven by the selections you make using the left-hand side menu. For reference: Scatter Plot FAQs.
1. Use the Securities & Lists search bar, or click List to pull in your own Watchlists, portfolio holdings, sector groupings, or index constituents.
2. Select either Point in Time or Timeseries as your Scatter Plot Type to view data as of a specific date or over the course of a period, respectively.
3. Choose your X-Axis and Y-Axis metrics using the search bars, or click the "Browse" folder icon to see all metrics available within the Scatter Plot. (For example, add Annualized Standard Deviation (5Y) to the X-Axis and Annualized 5 Year Total Returns to the Y-Axis)
4. Optional: Point in Time Scatter Plots show the latest data available by default. Use the date selection search bars to plot data as of a specific date.
5. For Timeseries Scatter Plots: The Time Range & Options menu lets you select a date range, frequency, and aggregation and fill methods to better organize data, such as monthly or quarterly performance metrics.
6. Click the Share dropdown on the upper-right of the Scatter Plot to create a shareable link or share with colleagues using YCharts. To create an image, use a screenshot tool of your choice to capture the Scatter Plot field. (A Presentation View feature is already in the works!)
Connect with YCharts And Share Your Feedback
Much like the asset managers and advisors we serve, we pride ourselves on listening to and understanding our clients' needs.
Scatter Plot is available to YCharts Professional users only. For questions or feedback, reach out to your account manager.
Not a YCharts user? Sign up for a 7-Day Free Trial or contact us via email at hello@ycharts.com and by phone at (866) 965-7552 to learn more.
Disclaimer
©2021 YCharts, Inc. All Rights Reserved. YCharts, Inc. ("YCharts") is not registered with the U.S. Securities and Exchange Commission (or with the securities regulatory authority or body of any state or any other jurisdiction) as an investment adviser, broker-dealer, or in any other capacity, and does not purport to provide investment advice or make investment recommendations. This report has been generated through the application of the analytical tools and data provided through ycharts.com and is intended solely to assist you or your investment or other adviser(s) in conducting investment research. You should not construe this report as an offer to buy or sell, as a solicitation of an offer to buy or sell, or as a recommendation to buy, sell, hold or trade, any security or other financial instrument. For further information regarding your use of this report, please go to: ycharts.com/about/disclosure
Next Article
Using Scatter Plots in Client Communications
Read More →
Subscribe to the YCharts Blog