Distribution teams have known for a long time, and well before covid-19, that more facetime with advisor-clients is key to success. While wholesalers are used to clearing hurdles to earn that facetime, work-from-home and virtual meetings are new and formidable challenges in their way.
As advisors become increasingly hard to reach, distribution teams must become more aligned and more efficient in order to win asset flows and capitalize on their hard-earned meeting time.
With YCharts, your entire distribution team gains access to tools, visuals, and data that are purpose-built for developing stand-out sales narratives—whether used for internal prep before meetings, screen-shared over Zoom, or shown to advisors on an iPad.
Collaborate on sales strategies, or build them on the fly
Identifying the strengths of your fund or fund family is the first piece of developing a successful sales strategy. The second, equally important piece is arming your distribution teams with that information, and the tools to present it without missing a beat. 
A wholesaler's ability to answer questions in-the-moment often makes the difference between leaving a meeting with an order, and leaving empty-handed. YCharts is a single platform with the dual benefit of sharing and presenting centrally-created sales collateral, and arming your reps with a tool that answers objections as they're raised.
The visual below, created with Fundamental Charts, uses the "Percent off High" feature to show that during market pullbacks, American Funds' American Balanced (ABALX) better preserves capital than both its benchmark and competitor, the Dodge & Cox Balanced fund (DODBX).
Download Visual | Modify in YCharts
A visual comparison is a great conversation starter, but when asked for a more in-depth look, your externals have in YCharts everything your market insights team supplies to them: centrally-approved fund comp sets, side-by-side reports, portfolio strategy overviews, and more.
Plus, with highly customizable tools and data covering a 75,000+ fund universe already in externals' hands, questions can be answered on the fly—with visuals and data rather than an "I'll get back to you."
Align your team around your fund family's strengths
When distribution leaders, sales enablement teams, internals, externals, and everyone in between rallies around your fund family's strengths, that alignment can be a difference maker.
YCharts connects your entire team, making it easy for internals to supply their externals with insights and answers. Any user can dive into the data then create and share visuals or commentary directly to the wholesaler's tablet or laptop. Similarly, externals can relay back to their sales enablement counterparts which reports or visuals are most effective in the field.
When money rapidly flows into or out of any category, investors start searching for the right manager and opportunity, paying closer attention to fund composition and allocations. Using the Fund Screener, you can build data tables that answer advisors' most important questions, like how your fund's performance and exposure stack up against all other Intermediate Core-Plus funds.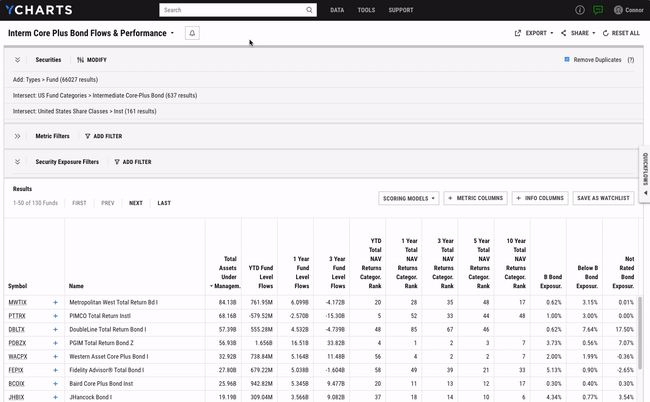 More sophisticated distribution teams are able to take it a step further using YCharts Model Portfolios. 
After receiving an advisor's asset matrix, load that information into YCharts and share it across your team. With this data on the platform, you can show how your fund moves the needle using Model Portfolios—which gives a holistic view of key metrics like performance, standard deviation, and beta at the portfolio level—or any of its PDF outputs.
As shown below, a model portfolio is created in YCharts, then a variation is made in which your fund replaces a competitor—here, Morgan Stanley's Institutional US Core (MUOAX) is added in favor of GMO's Quality III fund (GQETX), adding alpha to the portfolio.
And of course, your strategies may change as the market moves. To ensure your organization has the latest and greatest collateral at their fingertips, any chart, data table, fund screen, or portfolio shared among YCharts accounts is universally updated when a permissioned user makes a change.
Keep everybody in the loop
Frequently, central offices supply their broader distribution teams with fund lists that relate to strategic priorities. Watchlists—which can include funds, portfolios, stocks, and even economic indicators—are customizable with live market data and can be shared in YCharts with all of your stakeholders. If sales leaders make changes to the list of target funds, your entire team is armed with the new list immediately.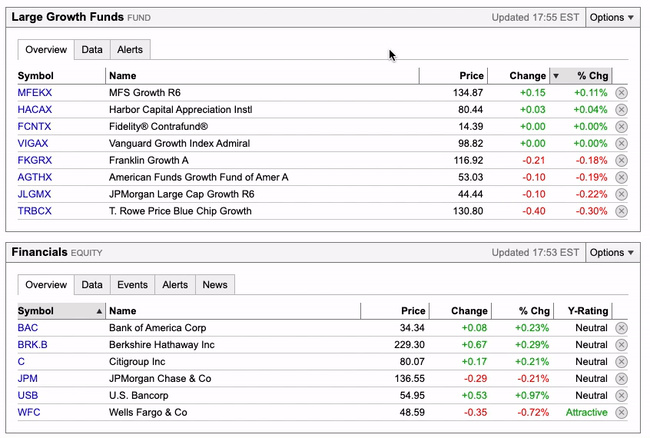 Click Here to visit your YCharts Dashboard
Email Reports is another YCharts tool that keeps your distribution team in the loop. With options for a daily, weekly, or monthly cadence, Email Reports are fully customizable with charts, performance tables, and earnings calendars for your fund family, largest holdings, and any other securities you may care about.
Click to get started with Email Reports
Lift your entire distribution team's productivity
With YCharts, every member of your team can play their part to facilitate impactful portfolio construction discussions with advisors. Instead of relying on disparate sources or bogged-down colleagues for sales collateral and market information, YCharts enables a virtuous cycle for creating, sharing, and fine-tuning ideas.
Everyone from the head of distribution to the alternative specialist can leverage YCharts to monitor your fund family, create sales collateral, build competitor intelligence, and fine-tune winning sales strategies. 
Plus, YCharts' experienced and dedicated team works as a partner to your business, ensuring you get maximum value from the platform.
Connect with YCharts
To learn more, schedule time to meet with an asset management specialist, call us at (773) 231-5986, or email hello@ycharts.com.
Want to add YCharts to your technology stack? Sign up for a 7-Day Free Trial to see YCharts for yourself.
Disclaimer
©2020 YCharts, Inc. All Rights Reserved. YCharts, Inc. ("YCharts") is not registered with the U.S. Securities and Exchange Commission (or with the securities regulatory authority or body of any state or any other jurisdiction) as an investment adviser, broker-dealer or in any other capacity, and does not purport to provide investment advice or make investment recommendations. This report has been generated through application of the analytical tools and data provided through ycharts.com and is intended solely to assist you or your investment or other adviser(s) in conducting investment research. You should not construe this report as an offer to buy or sell, as a solicitation of an offer to buy or sell, or as a recommendation to buy, sell, hold or trade, any security or other financial instrument. For further information regarding your use of this report, please go to: ycharts.com/about/disclosure
Stay up to date,
subscribe to the YCharts blog