"Are we in a recession?"
It's a question many financial advisors are fielding from clients as the US economy contracted for a second straight quarter. The answer, however, depends on who you ask. The short and technical definition of a recession is two consecutive quarters of negative GDP growth—which is exactly what's happened as US Real GDP fell 1.6% in the first quarter of 2022, followed by a 0.9% decrease in Q2. 
Download Visual | Modify in YCharts
As inflation crosses 9%, surging gas prices and dwindling consumer purchasing power certainly make a strong case that the US is in recession territory. However, economists at the National Bureau of Economic Research (NBER) get the final say in determining if we've entered a recession, and the committee uses a more complex definition than the simple "two quarters" approach. 
How Does The NBER Determine A Recession?
For starters, the NBER doesn't rely solely on GDP data to define a recession. In fact, the NBER has no hard and fast rules for defining a recession, instead taking a more nuanced approach by assessing a range of indicators and their implications in the broader economy.
Why? According to their official site, NBER considers the depth of the change of certain indicators. For instance, while GDP has declined over the past two quarters, the dips could be relatively small and insignificant, especially when weighed against other factors, such as the employment situation. At 3.6%, the US unemployment rate is not only below its historical average of 5.75%, but also near its all-time low. 
For context, the unemployment rate in October 2009 was 10.10%. Surely the NBER would hesitate to claim the US is in a recession when it's experiencing both low unemployment and steady job growth. (In the month of June, the US added 372,000 new jobs.)
Download Visual | Modify in YCharts
The NBER also examines real gross domestic income (GDI), which measures what participants in the economy make or "take in", i.e. wages and profits. US Real GDI is currently up 0.44% year-to-date and up 1.98% since July 2021. 
So while US GDP growth may be lagging, the strength of other indicators suggests that we're not quite in recession territory—at least not yet.
With all the confusion surrounding the recession narrative, The White House even took measures to provide clarification, saying it's "unlikely that the decline in GDP in the first quarter of this year—even if followed by another GDP decline in the second quarter—indicates a recession." The official White House blog goes on to explain the significance of the NBER's holistic examination of economic indicators, such as consumer and business spending, industrial production, and household savings. 
And because many of these data points are lagging indicators, it can be difficult to officially designate a recession in real time. As a result, NBER typically won't make a final decision until the US is well into a recession, or even after one has already passed. 
Still, many Americans certainly feel like we're experiencing a recession. US Consumer Sentiment is at an all-time low and down almost 50% from January 2020. This could be due in part to empty grocery store shelves, gas prices that are 69% higher than pre-COVID levels, and waves of layoffs that have Americans feeling like they're on shaky ground.
Download Visual | Modify in YCharts
Investors are also keeping close watch on Treasury yield spreads such as the 10-2 Year and 10 Year-3 Month yield spreads. Yield curve inversions have preceded every recession since 1955 and are therefore regarded as a reliable indicator of a looming recession. That said, their timing isn't perfect either.
Download Visual | Modify in YCharts
How Can Advisors Make Recession Assessments for Themselves and Their Clients?
Track Economic Data & Find Recession-Friendly Funds
Regardless of the definition you follow (or any gut feelings you have), recessions tend to increase investors' motivation to make sound and confident financial decisions.
YCharts provides access to tens of thousands of economic indicators to help advisors and their clients understand the factors at play when taking the temperature of the economy. For investment decision-making, the YCharts Fund Screener offers "Recession Friendly Funds" and "Recession Friendly Fixed Income Funds" as data-driven starting points for advisors.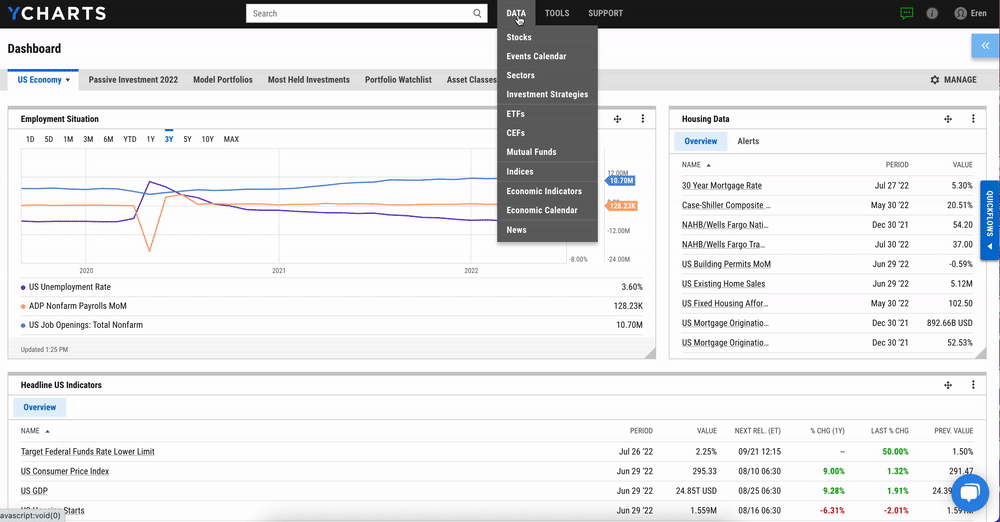 Below are some economic indicators that may be relevant to analyzing recessions. A number of pre-built templates are available in YCharts' recently enhanced Dashboard, including a US Economy Dashboard. 
US Personal Consumption Expenditures
Overlaying Recessions on Charts 
Fundamental Charts enables you to visualize US Recession periods (as defined by NBER) on any chart, allowing you to illustrate recession implications for various portfolios and securities.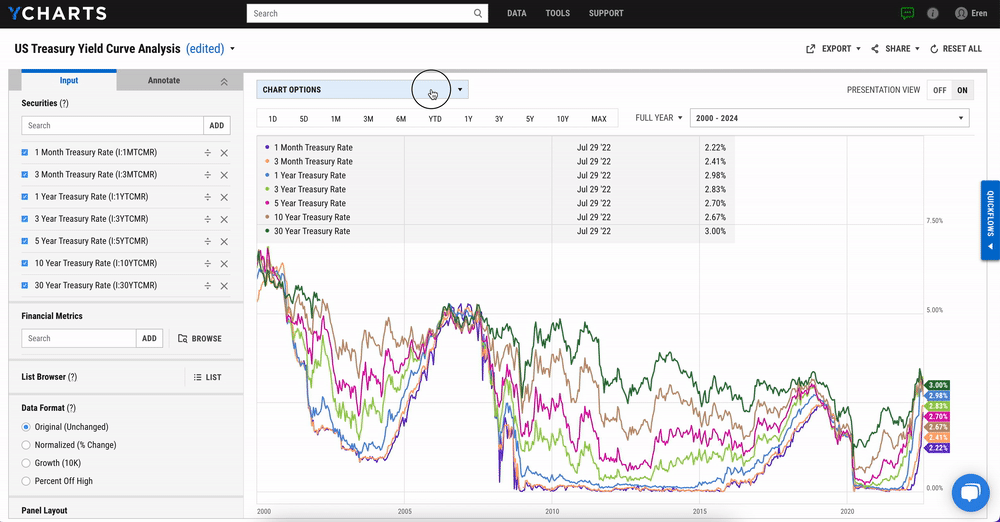 The Bottom Line
Is there one true answer to the question "Are we in a recession?" Yes and no. 
While final say comes from the economists at NBER, we likely won't have the answer until late in the game. But that doesn't mean advisors shouldn't continue taking the temperature of the economy and educating their clients on the fundamentals. With the proper data and tools at their disposal, advisors can communicate the most important factors at play and how they impact investing decisions.
Connect with YCharts
To learn more, call us at (773) 231-5986, or email hello@ycharts.com.
Want to add YCharts to your technology stack? Sign up for a 7-Day Free Trial to see YCharts for yourself.
Disclaimer
©2022 YCharts, Inc. All Rights Reserved. YCharts, Inc. ("YCharts") is not registered with the U.S. Securities and Exchange Commission (or with the securities regulatory authority or body of any state or any other jurisdiction) as an investment adviser, broker-dealer or in any other capacity, and does not purport to provide investment advice or make investment recommendations. This report has been generated through application of the analytical tools and data provided through ycharts.com and is intended solely to assist you or your investment or other adviser(s) in conducting investment research. You should not construe this report as an offer to buy or sell, as a solicitation of an offer to buy or sell, or as a recommendation to buy, sell, hold or trade, any security or other financial instrument. For further information regarding your use of this report, please go to: ycharts.com/about/disclosure.
Stay up to date,
subscribe to the YCharts blog