Earnings season rolls around four times a year and brings with it a frenzy of information. The beats and misses, excitement and uncertainty all combine for a dizzying few weeks. As such, earnings season requires extra market monitoring, due diligence, and attention to detail than other times of the year. It's also just pretty fun.
Earnings Season: the months of the year during which most companies release quarterly earnings reports to the public, notably earnings-per-share (EPS) and revenue; usually January, April, July, and October.
While some investors like to "trade earnings"—buy and sell stocks on speculation of beats and misses—ahead of announcements, others prefer a more passive approach and treat earnings season as a quarterly pulse check. Whichever you are, every follower of the markets can benefit from a quick refresher before the onslaught of new information that earnings season brings.
Click to jump to a specific section:
Companies on an Earnings Beat Run
Companies on an Earnings Miss Run
Biggest Earnings Beats of Q2 2021
Biggest Earnings Misses of Q2 2021
Earnings from Market-leading Sectors
Earnings from Market-lagging Sectors
Stock Earnings Calendar
Corporate Profits at the Market Level
Using YCharts to Navigate Earnings Season
Upcoming Earnings to Watch
Thousands of companies will share their financial results with the public this earnings season, but for varying reasons, only some will make it into the headlines. In an attempt to cut through the noise, these lists take a data-driven approach to identifying upcoming earnings to watch.
Companies on an Earnings Beat Run
Combining the constituent lists of the S&P 500 and Nasdaq-100 indices results in 521 unique companies, 147 of which have beat EPS targets in each of the last eight consecutive quarters. With 28% of those 521 companies on such a long and positive earnings run, five names have distinguished themselves further by beating analyst EPS targets by 100% or more, on average.
T-Mobile US
T-Mobile US (TMUS), the telecom giant serving ~30% of the U.S. retail wireless market, has beat the street's expectations by an average of 115.3% over its last eight earnings reports. That streak has made the stock a winner through most of 2021, but not without some volatility. Existing shareholder Deutsche Telekom AG recently showed its confidence by increasing its stake in T-Mobile US, which will report Q3 earnings on November 5, 2021.
Download Visual | Modify in YCharts
Darden Restaurants Inc
Darden Restaurants Inc (DRI) is the name behind brands like Olive Garden and LongHorn Steakhouse, and has topped analysts' EPS estimates by 129%, on average, over the last two calendar years. Its standout average EPS surprise is driven mostly by a Q3 2020 beat, a period in which Darden posted a $0.56 EPS compared to an estimated $0.05. Though DRI already released earnings on September 23rd, receiving price target upgrades from a slew of banks, it will wrap up its fiscal year with a Q4 report on December 17, 2021.
Download Visual | Modify in YCharts
General Motors
General Motors (GM) has been a high-flyer in 2021, putting years of underperformance firmly into the rearview mirror. Chip shortages and other supply chain issues have stunted GM stock since June 2021, but long-term investors are optimistic for an EV-conversion by the U.S. market leader. Additionally, the reputed hedge fund Engine No. 1 publicly acknowledged its stake in GM and confidence in CEO Mary Barra. GM will report Q3 earnings on October 27, 2021.
Download Visual | Modify in YCharts
Fox Corp
Fox Corp (FOXA), now a stripped-down version of the former Twenty First Century Fox after selling assets to Disney, has outpaced EPS estimates by an average 199.5% over eight consecutive quarters. The owner of Fox News and sports networks FS1, FS2, and the Big Ten Network drew down 50% in March 2020 but has shot way higher since, and will report Q3 earnings on November 3, 2021.
Download Visual | Modify in YCharts
Okta
Okta (OKTA) leads all major stocks on earnings beat runs with a 237% average EPS surprise over the eight fiscal quarters since Q3 2019. The pureplay cybersecurity firm is a provider of workforce and customer identity solutions, protecting data in an increasingly digital business world. Okta, whose share prices have risen by more than 900% since its 2017 IPO, released fiscal Q3 earnings on September 1st and will report Q4 on December 2, 2021. 
Download Visual | Modify in YCharts
Companies on an Earnings Miss Run
While over a quarter of S&P 500 and Nasdaq-100 companies have strung together eight EPS beats in succession, only one company has missed analyst EPS targets each quarter over the same timeframe.
Equinix
Equinix (EQIX) has missed EPS expectations by an average of 28.9% since its Q3 2019 earnings report. But surprisingly, EQIX shares are up more than 100% in that time. The provider of data centers and colocated server environments hasn't kept pace with Wall Street's lofty EPS expectations. But Equinix's price performance might indicate that the business model—providing real estate and services to companies building their own cloud infrastructure—is resonating with its customers. Equinix received several price target upgrades even after missing expectations for Q2, and will share Q3 financial results on October 28, 2021.
Download Visual | Modify in YCharts
Biggest Earnings Beats of Q2 2021
Looking at earnings reports from Q2 2021—the most recent data available—there were 15 companies between the S&P 500 and Nasdaq-100 that beat consensus estimates by 100% or more.
Can these names, who doubled analyst expectations in the most recent quarter, continue their winning ways this earnings season?
Access & Modify Data in YCharts

Biggest Earnings Misses of Q2 2021
The same Q2 reports from July's earnings season can also be used to identify names at the bottom of the barrel. Eleven companies from the S&P 500 and Nasdaq-100 reported EPS figures that were 20% below estimates, or worse. If these were isolated performance lapses, could these names be poised to surprise the street in earnings season Q3?
Access & Modify Data in YCharts
Leading Sectors of 2021 and Major Stocks
2021 has been a positive year for most stocks, albeit with considerable volatility. But two sectors, Energy and Financials, have separated themselves from the herd with exceptional performance. With the added focus on these sectors and companies within, big name market leaders will be worth watching this earnings season.
Exxon Mobil (XOM) and Chevron (CVX), two well-known integrated oil-and-gas companies, each comprise 15% or more of leading energy ETFs like XLE, IYE, and VDE. As such, their Q3 reports may play a role in determining the sector's prospects through end-of-year, but a backdrop of rising oil prices is probably a stronger force for lifting all the sector's boats. Exxon and Chevron will both report financial results on October 29, 2021. 
Download Visual | Modify in YCharts
In the Financials sector, blue chips JP Morgan Chase (JPM) and Berkshire Hathaway (BRK.B) will join the earnings season party on October 13th and November 5, 2021, respectively. The Dimon-led JPMC and Buffett-headed Berkshire were slower than average to recover from the COVID-crash, and didn't claw back to pre-pandemic share prices until early 2021. For Berkshire, the usual focal points are all but guaranteed to persist in earnings season Q3: How much cash do they have? Were any acquisitions made? And how much of its own stock did the conglomerate repurchase?
Download Visual | Modify in YCharts
Lagging Sectors of 2021 and Major Stocks
On the flipside, Consumer Staples and Utilities have been market laggards in 2021, though still up single digits through three quarters. Often considered "defensive", these sectors are actually facing headwinds coming into earnings season even as growth elsewhere in the market is slowing. Rising interest rates and bond yields are a potential culprit for the lack of enthusiasm around consumer staples and utilities stocks, as the latters' dividend yields become relatively less attractive.
Procter & Gamble (PG) recovered quickly from the March 2020 market crash, returning to its pre-pandemic levels by April 2020 as we all stocked up on toilet paper and cleaning products. But in the time since, P&G and Pepsi (PEP) have cooled off while the broader indices have steamed higher. P&G earned some modest price target hikes throughout August and reports earnings on October 19, 2021, while Pepsi released earnings on October 5th after garnering analyst praise for divesting its juice brands, including Tropicana.
Download Visual | Modify in YCharts
You might remember that big Utilities names like NextEra Energy (NEE) and Duke Energy (DUK) were high flyers pre-COVID-19. Reporting earnings October 21st and November 5th, respectively, share prices for NextEra and Duke have suffered from rising bond yields—utilities are often seen as bond-substitutes thanks to high dividend yields. That said, some market pundits see opportunities in select utility names, with NextEra cited frequently as the world's largest producer of wind and solar energy.
Download Visual | Modify in YCharts
Stock Earnings Calendar
To keep you organized this earnings season, this calendar provides scheduled reporting dates for all 40 names mentioned in this post. A similar earnings calendar can also be created in YCharts for all stocks, or constituents of specific indices.
Tuesday, October 5, 2021
Pepsi (PEP)
Wednesday, October 13, 2021
JP Morgan Chase (JPM)
Progressive Corp (PGR)
Tuesday, October 19, 2021
Procter & Gamble (PG)
Wednesday, October 20, 2021
Baker Hughes Co (BKR)
Thursday, October 21, 2021
Valero Energy Corp (VLO)
Las Vegas Sands Corp (LVS)
NextEra Energy (NEE)
Friday, October 22, 2021
Southwest Airlines (LUV)
Tuesday, October 26, 2021
UDR Inc (UDR)
Hasbro Inc (HAS)
Wednesday, October 27, 2021
General Motors (GM)
Ford Motor Co (F)
AvalonBay Communities Inc (AVB)
Thursday, October 28, 2021
Equinix (EQIX)
Mid-America Apartment Communities (MAA)
Boeing Co (BA)
Huntington Bancshares (HBAN)
Friday, October 29, 2021
Under Armour Inc (UAA)
Twitter Inc (TWTR)
Ralph Lauren Corp (RL)
Exxon Mobil (XOM)
Chevron (CVX)
Monday, November 1, 2021
Clorox Co (CLX)
Tuesday, November 2, 2021
Caesars Entertainment (CZR)
Wednesday, November 3, 2021
Fox Corp (FOXA)
Thursday, November 4, 2021
Expedia Group Inc (EXPE)
Friday, November 5, 2021
T-Mobile US (TMUS)
Ventas Inc (VTR)
News Corp (NWSA)
PPL Corp (PPL)
Berkshire Hathaway (BRK.B)
Duke Energy (DUK)
Tuesday, November 9, 2021
Occidental Petroleum Corp (OXY)
Cardinal Health (CAH)
Thursday, December 2, 2021
Okta Inc (OKTA)
PVH Corp (PVH)
Friday, December 17, 2021
Darden Restaurants Inc (DRI)
Corporate Profits at the Market Level
2021 delivered another rocky September for major stock averages. But since the March 2020 bottom, equities have rallied due to strong corporate profits and surrounding exuberance. Even in the face of rising costs for businesses, companies have found a way to beat analyst estimates and many expect that trend to continue. Naturally, some pessimism remains and anecdotally, the words "inflation" and "shortage" were uttered a record high number of times on Q2 earnings calls, going back to 2010. 
According to Standard & Poor's, the composite EPS of S&P 500 stocks reached an all-time-high of 45.95 in Q1 2021, and is estimated to remain a heightened 44.28 for Q3 once data is consolidated.
Download Visual | Modify in YCharts
While market-level EPS is on the rise, some are worried it's being outpaced by rising prices. It's true that the S&P 500 price-to-earnings (P/E) ratio has risen considerably since COVID-19 first reared its ugly head, but that figure is estimated to soon be in line with historical averages. On a side note, both the previous and following charts really put the severity of the 2008 Financial Crisis into perspective.
Download Visual | Modify in YCharts
Using YCharts to Navigate Earnings Season
Find companies on an earnings beat run
To find companies that have beat analyst expectations over consecutive quarters, use Timeseries Analysis to quickly compile and align data like EPS Surprise, Forward EPS Estimates, and Actual EPS. Because companies report financial results on different days throughout earnings season, format unlike data by clicking "Frequency" then select "Market Quarterly" to align all EPS data to the standard quarter-ends.
Armed with properly formatted data, click "Export" then either "Export Data" or "Export to Excel Add-in" (if using the YCharts Excel Add-in, the spreadsheet will be linked to YCharts and automatically update when new data becomes available). From here, you can layer additional formulas to identify which names have a streak of beating expectations.
If you spot a company of interest, use the Earnings Chart Quickflow to dig deeper by visualizing the company's historical EPS beat and miss trends—and how the share price has responded. The Quickflows Menu is accessed via the blue tab on the right-hand side of YCharts.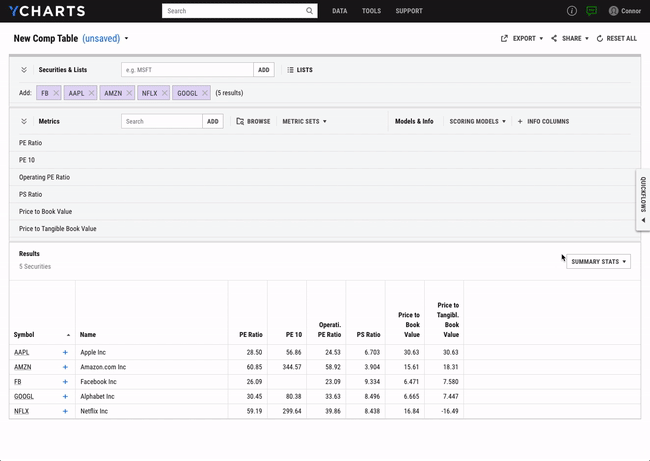 Find companies with the biggest earnings beats and misses
Want to see which companies outpaced the street's expectations? Or find opportunities in names that sold off after an earnings miss?
Use the Stock Screener to find companies with a positive Earnings Surprise and compare their data side-by-side. In the Stock Screener, add either a broad market index, like the S&P 500, or a more targeted list, such as your portfolio holdings, by clicking "Modify" and toggling between the "Equities" and "My Lists" menus. Then click "Add Filter" and type to search for "EPS Surprise" or related metrics, and set a range or equation for its value.
Click the screen's name in the upper left corner to save, and distribute to colleagues by clicking "Share" in the upper right corner.
Create a custom earnings season calendar
Click "Data" in the top navigation bar, then "Events Calendar". From here, a stock earnings calendar can be created by unchecking all Event types except "Earnings". In the upper left corner, click "Select a List" to filter the calendar by stock style, index, sector, and more.
Modify a Stock Earnings Calendar in YCharts
Connect with YCharts
To get in touch, contact YCharts via email at hello@ycharts.com or by phone at (866) 965-7552
Interested in adding YCharts to your technology stack? Sign up for a 7-Day Free Trial.
Disclaimer
©2021 YCharts, Inc. All Rights Reserved. YCharts, Inc. ("YCharts") is not registered with the U.S. Securities and Exchange Commission (or with the securities regulatory authority or body of any state or any other jurisdiction) as an investment adviser, broker-dealer or in any other capacity, and does not purport to provide investment advice or make investment recommendations. This report has been generated through application of the analytical tools and data provided through ycharts.com and is intended solely to assist you or your investment or other adviser(s) in conducting investment research. You should not construe this report as an offer to buy or sell, as a solicitation of an offer to buy or sell, or as a recommendation to buy, sell, hold or trade, any security or other financial instrument. For further information regarding your use of this report, please go to: ycharts.com/about/disclosure
Stay up to date,
subscribe to the YCharts blog